Objectives
1. Improved awareness and capacity with the local population about the ground water issue. Its causes and the ability to mitigate it through feasible changes in water consumption patterns and water use.
2. Build up capacity and advocate to governmental institutions for financial, technical and supervise support.
3. Support concrete actions to change the irrigation and water consumption patterns and use of ground water.
Working Areas
We are primarily focused on Sundarbans in West Bengal. Therefore, we are concentrated on 59 Mouzas; out of which 42 Mouzas come under 5 Gram Panchayat i.e. Uttar Mokambaria, Masjidbati, Jyotishpur, Nafarganj and Jharkhali of Basanti Block and 3 Gram Panchayat i.e. Sambhunagar, Bipradaspur and Choto Mollakhali of Gosaba Block and one Gram Panchayat i.e. Maipith Baikunthapur of Kultali Block. All these Blocks come under South 24 Parganas district.
On the other hand under North 24 Paraganas district; 17 Mouzas come under 3 Gram Panchayat i.e. Sutia of Gaighata Block, Bermajur II of Sandeshkhali II Block and Gobindakathi of Hingalganj Block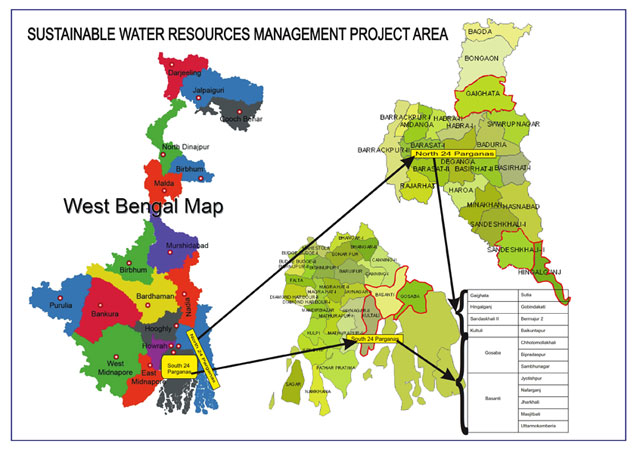 Data Collection

Ground water level every month in several
points in our working areas everyday

High tide and Low tide data

Rainfall data
We do have collection of data for more than five years
Data Shows:
| | | |
| --- | --- | --- |
| There is permanent depletion of water | Both in case of high tide and low tide; every year there are rise in water level in the river | Present rainfall shows that the amount of annual rainfall is less than the previous year |
These data help us to understand the situation of ground water. We do use it for awareness building and advocacy among the people and the authorities respectively.
Awareness Building
It is an ongoing process. We are having it at different level through Village Committee Meet, SHG Meet, Mothers Meet, Farmers Meet and house to house visit
Advocacy Programme
On the basis of our findings as well as the peoples experience, we do go for campaign, rally and advocacy programme at different level such as Panchayat level, Block level and Sub-division level too
Campaign / Rally
Organise campaign / rally along with the villagers handed over their demand / appeal on water related issues to the local authorities. We also place our demands at the state level through likeminded state level forum where we are also part and parcel of that forum
School Awareness
This is an effort to aware Children about hygiene practices, stop misuse of water, Depletion of ground water through power point presentation and practical demonstration .
Mass Awareness and demonstration
Farmers Training
Farmers Field School
Seed Distribution
Less water intensive crops and SRI method
Covid 19
Amphan & Yaas
Environment Protection
Rain water harvesting
E-coli Test
IEC