Water and Sanitation (Jeevandhara)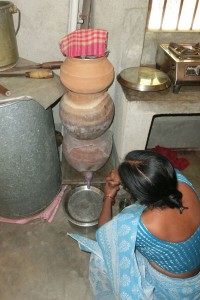 40 million people affected by arsenic in drinking water in WB. The Jeevandhara project started in 2007.
Objective:
• Improve quality of life of poorest of the poor thru reduction of water & sanitation related diseases and capacity building of women for their own health.
• In addition, to also aims to provide safe drinking water by removing bacteria and organic particles from surface water and arsenic from ground water.
Some results:
– 65 school toilets constructed, 3 Rain water harvesting tanks were constructed, 2 community latrine were constructed,
– 2 community Arsenic Filter installed
– More than 30000 people reached thru awareness
– Reduction of diarrhoeals diseases
– 29 Tube well platform was raised, 2 Hand Pumps installed in schools for use in toilets.
– 1 Pond Sand Filter installed
– 485 households' toilets constructed
– 26 Household Filters distributed